Tha Key to Self/Harmonization Your First Kanon Initiation


Reading Code:

1. The word the has been changed to tha in this work. It can provoke a definite change in our reading perception. Tha implies tha ancient sound of Ahh which resonates in our central chakra tha heart.

2. Tha word Constellation simply defines tha almost infinite combinations of visual geometric relationships resulting from tha creative placement or configuration of tha bridges placed on tha exact Pythagorean harmonic points of each string of tha Pythagorean Kanon

3. If you havent yet clicked on tha Listen Page please do so before you begin reading about tha Kanon.
If what they say is true - A picture is worth a thousand words - then - A song is worth a thousand thoughts


During tha last eight years I have been promoting my discovery of tha Kanon and have been teaching people of all ages and walks of life how to begin their process of Self /Harmonization. During the first year or so of my presentations I made a tactical error in my educational approach. I would usually combine a performance/meditation followed by a short talk. At tha end I would invite tha audience to come forward and take turns "jamming" on tha harps. Most of these people were amazed at how easy it is to improvise without any preconceived ideas."Wow! Just Play!" Some would buy their first harp at that moment. I encouraged my potential new students to play all tha different size harps and make an intuitive decision concerning which harp they liked best.


However I have learned through experience of trial and error that this freedom of choice is not appropriate in the initiative stage. Tha mode of learning a Kanon is quite different from our traditional musical instruments. Half of the Pythagorean Harp learning process is in tha tuning which is unique each time you play. This important tuning process entails self/harmonization before self expression. As we all know one must be "in tune" before harmonizing with others. Remember that tha Kanon is an extension of the one string Monochord of Pythagoras. There is a logical order to understanding creation based on the simplicity of a string vibrating . The same size and length string repeated 4 times is tha Pythagorean formula that provides us with tha"4 directions" in order to create our first Cosmic Map. So my recommendation to all (even experienced musicians) is to begin at tha beginning: Master the first steps, simply and clearly; be firmly rooted to the principles. I have students who are practicing vibrational healers and report they have obtained exponential improved results by using the 4 string Kanon as an addition to their normal therapy practice. It may even be true that tha 4 string "Tetrachord" as tha Pythagoreans called it may be one of tha most powerful healing tools for resonance healing we have available today.

The kanon is not exclusively for musicians and healers - although tha new paradigm informs us that all is resonance which implies that we are all musicians and are all potentialy resonance healers. So let me stand corrected. The Pythagorean Harp is exclusively for musicians and healers. Its a beautiful sounding instrument that even babies, seniors and people with disabilities can enjoy playing with as they channel their creativity. It is extremely simple to tune a 4 string Kanon in a creative and personal way. Some of my students use it without tha movable bridges which can simplify tha tuning even more. Resonance healers have reported that tha overtones created on tha harps without using bridges are even more pure and therefore more effective. I perform a song at tha end of each of my presentations now using tha 4 string Kanon without bridges. I discovered a mantra used in ancient times by tha Essenes "Hu Hakima Wa Tamima when translated is: tha "Serpent" (signifying wisdom) and tha "Dove" (signifying fly straight to the heart). I tune tha 4 open strings differently for each performance so that although tha words and meaning of the mantra are tha same, each performance becomes tha creation of a new song! Listen to an example here on Sound Cloud Mandalatrece Track # 3: Tha Well Spring - Returning to tha Spirital Order recorded in the Ancient Solfeggio Frecuency 839HZ. I had never sung before yet was inspired by discovering this simple technique! So - welcome to my singing debut! This song is part of my full album project Cultura que Cura which is free to listen to in its entirety by clicking on the LISTEN page above.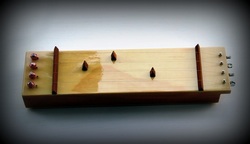 Hand Crafted 4 string Pythagorean Kanon - 23"x5"
$245 USD
IMPORTANT NOTE: tha 4 string kanons are currently available (a limited quantity). Tha total price of $245 includes a carrying bag and sticks. Virtual classes are available on youtube. In tha U.S., Mexico, and Canada shipping is include. Other Countries please contact info@mandalatrece.com
No returns except in case of defects or damage in shipping.


---

Accessories + More:
---
Cultura que Cura (master audio files) + 4 additional full mp3 album projects - All created and produced by Jim Doney Mandalatrece. Formerly $19 now free!

---

---