Harmonic Education
Tha Glass Bead Game


Reading Code:

1. The word the has been changed to tha in this work. It can provoke a definite change in our reading perception. Tha implies tha ancient sound of Ahh which resonates in our central chakra
tha heart.

2. Tha word Constellation simply defines tha almost infinite combinations of visual geometric relationships resulting from tha creative placement or configuration of tha bridges placed on tha exact Pythagorean harmonic points of each string of tha Pythagorean Kanon

3. If you havent yet clicked on tha Listen page please click on tha SOUNDCLOUD MANDALATRECE button below before you begin reading about the Kanon.
If what they say is true - A picture is worth a thousand words - then - A song is worth a thousand thoughts


Harmonic Education is an ethical approach to tha learning of all subjects (that are considered Arts and Sciences) based on tha resonance of holistic values. If we and our children "listen" inside ourselves we may be able to discover our true calling. Realizing absolute truths is a question of understanding resonance. Resonance in this sense is not religion - it is simply a practical approach to living harmonically. Tha pedagogy which I have developed is based on Pythagorean resonance as practiced on a Pythagorean Harp (Kanon). Tha Kanon as it was referred to by tha original Pythagoreans is an acoustic musical string instrument which may be likened to a sonic cosmic map indicating where each one of us may find her or his unique inner song, and be ever more in harmony with our emotional, sacred, and energetic bodies through the healing nature of sound. By using tha laws of harmonics according to Pythagoras, we activate in each one of us our personal sonic code relating to our unique individual harmonic resonance.
Tha students and teachers learn how we may each discover our personal frequencies and rhythms by creating constellations on a Pythagorean Kanon. Subsequently by manifesting our personal harmonic sequence we are then better prepared to resonate creatively within tha group.

Collective frequencies and harmonics may promoted as well by a small or large group utilizing voices, one or more kanons, and also performed with instruments such as percussion tubes, drums, and chimes.
​
What is tha Glass Bead Game ?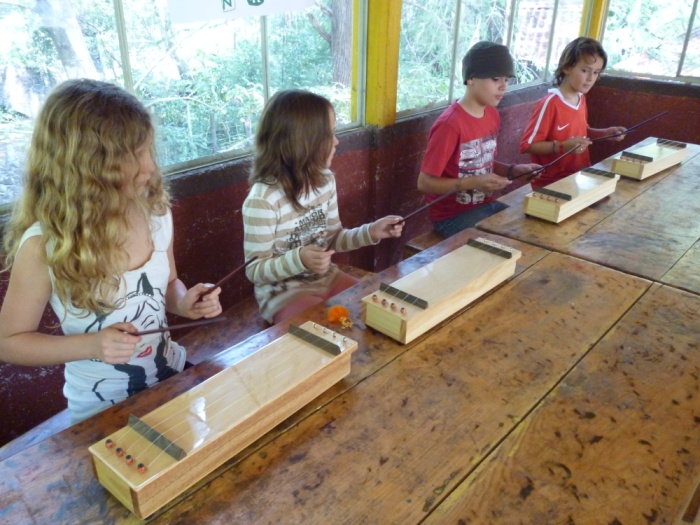 Tha idea of Tha Glass Bead Game speaks of integrating any and all aspects of knowledge and culture into a musical format/play to be expressed in tha context of tha creation of a utopian university. It was first conceived of by Herman Hesse in his Nobel Prize winning book "The Glass Bead Game" which he began in 1931 and finally published in 1943 after tha fall of Hitler (who had previously banned it's publication). The Glass Bead Game was practiced on a mysterious Pythagorean instrument alluded to but never precisely described in his book. As I was rediscovering tha Pythagorean Kanon in 1976 at tha Evergreen State College in Olympia Washington I also discovered and read that book. My work with tha kanon sincronized exactly according to Hesse's unspoken description of tha "secret instrument" used in "The Glass Bead Game". According to him this idea was first conceived of and practiced by tha ancient Chinese. Hesse quotes in "The Glass Bead Game" from We Be Lu's "Spring and Autumn" written thousands of years ago: "The origins of music lie far back in the past. Music is the source of Measure and is rooted in the great Oneness. The great Oneness begets the two poles; Perfect music has its cause and effect. It arises from equilibrium."
This is precisely a synthesis of my mathematical formula utilizing Tao ( tha great Oneness) Yin (two - tha law of octaves) and Yang (three - tha spiral of creation) in tha practice of tuning and playing tha Kanon as an aid for understanding oneself and tha quantum laws of creation itself!

Everything from tha Microcosm to tha Macrocosm as well as tha overwhelming probability of tha existence of parallel dimensions is actually: Resonance, vibration, and rhythm, sounding and breathing in continuous Universal Harmony. In Pythagoras's words in his day: tha Muses are not goddesses but "Musics"; For Example:

"Tha Music of Mathematics", "Tha Music of Astronomy", "Tha Music of Poetry", "Tha Music of Painting", "Tha Music of Sculpture", etc., and as applied to modern times, "Tha Music of Tha Healing Arts", "Tha Music of Ecology", "Tha Music of Physics" "Tha Music of Digital Technology", "Tha Music of Biology", "Tha Music of Psychology", and "Tha Music of tha Pythagorean Harp" !!!
​
I am on a specific educational journey:
Learning to understand tha difference between superficial learning (large quantities of details) and an inspired profound "touching" of tha resonant source/field is a conscious choice based on observation. I am constantly searching for practical applications to build musical bridges between tha arts and sciences.
This process is truly a collaborative effort between students, teachers, and myself on many levels! Remember this basic fact:
Tha Harmonic Science of Music is a creative paradigm so ancient that it predates "Math" yet it encompasses math and actually contains math within itself. Our children and ourselves could be solidly positioned in a holistic resonant consciousness as an alternative to tha highly competitive environment that our current linear based educational system promotes.


Or if you just want more info about tha Pythagorean Harp click here