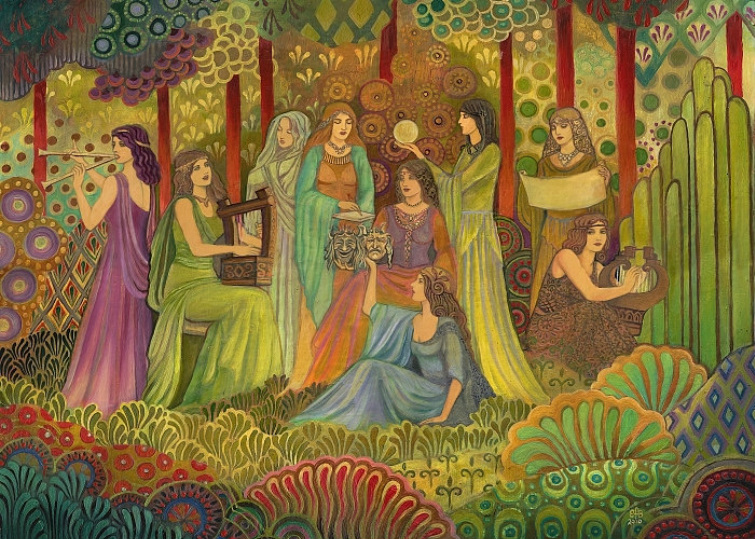 Muses

Professor Robert Gotleib was a teacher and advisor of mine back in 1977 while I attended The Evergreen State College in Olympia, Washington. I created for myself at Evergreen a 5 year degree program majoring in alternative music education in search of a new synthesis of learning music based on tha integration of Jazz, East Indian tonal and rhythmic concepts with Shona tribal music, Greek modal theory, and occidental musical theory . At an informal session at his home one afternoon in 1976 Professor Gotlieb revealed to me his research on the actual meaning of the word Muses in tha Pythagorean's time. According to Gotlieb tha word muse simply and unequivocally meant music.This implies that Pythagoras, by publicly speaking to the community in Croton, spoke of the Muses in a very different context than the Platonic propaganda would take us to 180 years later. What Pythagoras really implied in his teachings was that everything from tha microcosm to tha macrocosm as well as parallel dimensions: is resonance, vibration, rhythm, and harmony.

In Pythagoras's words in his day - then tha Muses were:

"Tha Music of Mathematics, Tha Music of Astronomy, Tha Music of Poetry, Tha Music of Painting, Tha Music of Sculpture", and etc.

In other words he developed a pedagogy where tha Rainbow Modes are at tha center of tha knowledge teachings and become tha chief catalyst to human harmonic evolution, and an essential source to the harmonic understanding of mathematics.

The Pythagorean folklore of the Muses as goddesses began with Plato. Platonic based Pythagorean Muses may be symbolically sexy and romantic but intentionally or not they take music out of the center of the Pythagorean True Sonic Matrix of Creation, where 2 is equal to 1 and 3 is tha catalyst for infinity and replace it with tha left brain non harmonic mathematics,where 1=1, 2=2, and 3=3 which is still evident today in our contemporary education and extremely so even in our contemporary music education.
In a kind of reverse plagiarism Plato gave credit to much of his own writings as Pythagorean. Music was subverted to a place in his school as a separate elective just like in our current education system. It is a great lie we have been duped with in school that abstract mathematics (according to Plato's interpretation of Pythagoras) is at tha core of all science and reality as we know it. Simply not true. We know now that it is Sound . Music is at tha source of creation. Not mathematics . Mathematics must be used only with Harmonic Ethics and then may we access the new quantum map and frequency codes for our Harmonic Reactivation. Humanity is now on a collision course to self-destruction if we continue to believe in abstract mathematics and hard (non harmonic) science. Actually, as I believe, and according to Pythagoras, Rhythm, Resonace, and Harmonic Mathematical Science are tha most reliable source teachings and create tha Harmonic Bridge to Mathematics, Geometry, and all the other Arts and Sciences.