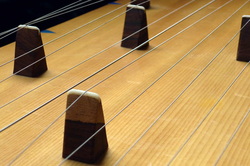 Tha Pythagorean Harp* or Kanon** as it was referred to by tha original Pythagoreans is an acoustic string instrument which may be likened to a sonic cosmic map indicating where each one of us may find her or his unique inner song, and be ever more in harmony with our emotional, sacred, and energetic bodies through the healing nature of sound. By using tha laws of harmonics according to Pythagoras, we activate in each one of us our personal sonic code relating to our unique DNA. In tha Here and Now, we create a new song each and every time we play.

As you study these Pythagorean musical laws, you can listen to tha revelation of an intuitive, subjective yet precise mathematics within tha strings of the Pythagorean harp. Rhythm, tonal vibration, and harmony are actually tha source of tha creation of mathematics and not tha other way around, as many people think.

This musical instrument is an adaptation of tha original Pythagorean Monochord. Although tha monochord by definition has only one string, according to Pythagoras tha One Universe beholds Many Worlds. Although containing several strings the Pythagorean Harp or tha Kanon is still referred to as a monochord because the strings have tha same length and thickness, a subtle yet obvious difference from all the other stringed instruments we are familiar with. This creates a unique form of Pythagorean magic which sonically can aid greatly in our contemporary search for the understanding of cosmic reality. This begins with looking within and utilizing these resonance laws as a tool for self/ harmonization.


---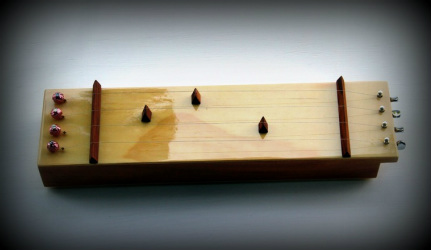 My discoveries began when I was 26 years old listening to a lecture by Professor Robert Gottlieb in 1976 on tha theme The Music of the Spheres while attending The Evergreen State College in Olympia, Washington, USA.
According to Gotlieb Pythagoras's monochord was Pythagoras's most important legacy- his experience of sonic mathematics functioning as a bridge between music and tha cosmic mechanisms, thereby utilizing numerical codes to understand universal creation in musical terms first, then secondly as number, and thirdly as geometry and astronomy. It has been said that Pythagoras's last words to his disciples upon dying were "study tha monochord".

After Professor Gottlieb's lecture Tha Music of the Spheres, he lent me his four-stringed monochord, also referred to by tha original Pythagoreans as a Tetrachord (Translated 4 Strings). That night I experimented till the break of dawn, improvising with a pair of chopsticks. Since then I have been thoroughly addicted to tha Monochord, tha Kanon and tha Pythagorean Mysteries. I have developed over tha years a pedagogy of Pythagorean music theory that applies to
Self/Harmonization, Resonance Healing and Alternative Music Education utilizing this instrument. In my process of evolution, I have designed three models of the Pythagorean Harp, each with their progressive step by step, simplistic learning challenges; with four, seven, and thirteen equal-length strings. They generally (but not always) use moveable bridges in order to divide tha strings at the Pythagorean harmonic points. Tha Harps are performed with a pair of sticks and sometimes a violin bow. Two or three harps may also be played in ensemble or performed by one person.


---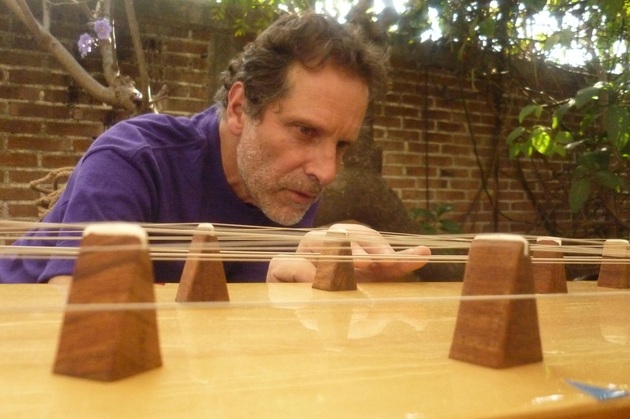 *Technically speaking this instrument is not in tha harp family, although through activating Pythagorean harmonic points it sounds very harp like, thus my reason for calling it a "harp". It's basic construction does however resemble many other ancient as well as modern instruments which also have: wooden boxlike cavities with resonating strings which may be tonally separated by movable bridges; and triggered by striking the strings with sticks, or sometimes bowed or plucked. Examples: Dulcimer, Santoor, Koto, Salterio, to name a few. There is an ancient similar Turkish instrument called a Qanun which dates back to about 1,500 years after Pythagoras's time and today is still an active and evolving tradition. Is it possible there is a link here with tha ancient Kanon of the Pythagoreans?


---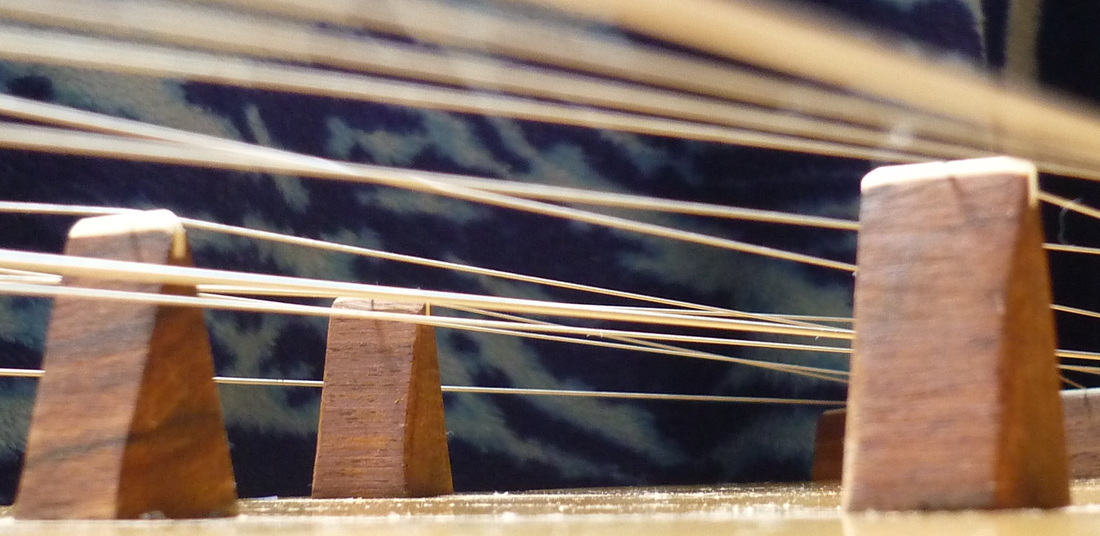 **According to Nicomachus the Pythagorean tha name of this musical instrument of tha Pythagoreans is tha Kanon (The Manual of Harmonics pg. 61, IBSN 0- 933999-43-7, 100 AD).

The definition of tha word kanon in ancient Greek (Pythagoras's time) signifies: undisputed law.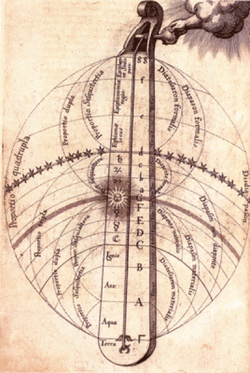 I believe Pythagoras's real message to humanity is tha revelation to activate tha ancient practical secrets of self/ harmonization: utilizing rhythm, vibration, and harmonic resonance according to tha ancient laws of tha finely tuned
rainbow musical modes.

These special tones as created on a Pythagorean Kanon are quite unique compared to other stringed instruments because they amplify tha pure overtones and undertones (tha harmonics) of tha perfect resonance of octaves, 4ths and 5ths. By tuning the Kanon to a perfect Pythagorean Scale instead of your contemporary equal temperament all the tones become harmonically related with each other.

Tha exactly tuned Pythagorean Overtones create a precise wheel of intervals utilizing tha exact 3/2 proportion which are actually tha sonic resonant representations of tha geometric symbol known as Tha Flower of Life which mirrors the laws of Universal Creation at its Source. When properly utilized on a Pythagorean Kanon they actually reference us to where it is we are going in space and time. And tha Pythagorean Undertones utilizing tha 2/3 proportion represent the Universal Anti-matter, and refer us to where it is we are coming from in space and time.

The practical modern day use for this formula as practiced on a Pythagorean Harp is activated by creating a unique constellation each time you play. By choosing one of 9 or thirteen harmonic points on each of tha strings that utilize small pyramid like bridges and then by intuitively tuning tha tension of each of tha strings you begin to design your cosmic map which relates to your innate ability for self-harmonizing according to your unique DNA. Thus we create a bridge to tha understanding of creation as it applies to all of tha Muses and also can provide us enhanced harmonic abilities in dealing with our relationships, our physical and emotional balance, as well as our actions. Contrary to tha version of the incorrect "Pythagorean" triangle taught to us in school, the real Cosmic Triad as practiced by the original Pythagoreans is actually a model of universal creation, the sonic source of the geometric figure the Flower of Life. This Cosmic Trinity in action is a sonic map of the essential creative access codes revealing to us a practical understanding of the universal force field and how from it Yin(2) and Yang(3) generate all life and movement, as well as our ability to actualize exponential growth utilizing this Creative Harmonic Science.


---