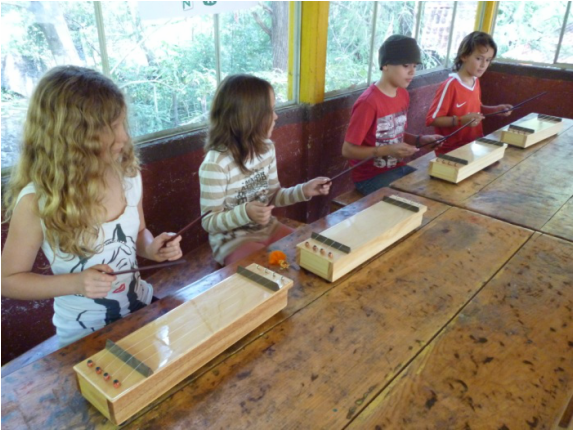 MODERN SONIC PYTHAGORISM TODAY

RENAISSANCE OF RESONANCE

We have many examples of what I am referring to as the Renaissance of Resonance healing movement in all of the Shamanic traditions and contemporary vibrational healing techniques worldwide being practiced and taught today. The pedagogy for the Pythagorean Harp or Kanon is my particular addition.

Anyone may access these ancient codes that Pythagoras has left us and begin the simple song of self/harmonization, re-establishing the idea that this creative harmonic music is our natural inheritance. Creating Music utilizing a Pythagorean Harp is mostly right brained, creative, heart centered activity and not something reserved exclusively for the talented few who are also willing to dedicate themselves to years and years of hard discipline. Waiting for music to enter one's life by donning the headphones or passively listening to a concert is not a viable evolutionary proposition and not what we are ultimately designed for. You are coded to create. Just remember you are music. And by continual individual and collective use of this new/ancient Harmonic Science you may discover or rediscover musical codes that can completely transcend your current conscious level of realization. What will the future bring after we outgrow concepts like getting healed and raising our vibrations? Did Pythagoras know of Post Ascension Adjustment and Post Sonic Quantum Cognition? Living in Parallel Dimensions 101? Was the world of his time not ready for the Pythagoreans? Was that the reason for musical secrecy? After all these millennium are you finally ready to claim this inheritance?

Modern Sonic Pythagorism is somewhat like the story of Dorothy in The Wizard of Oz. When she finally arrives at her destination (The Emerald City) she is advised by the Good Witch Glinda that she has only to tap her magic slippers together 3 times (Like the 1,2,and 3 of tha Universal Sonic Pythagorean Lambdona) with the intention of "returning home". The irony of this is that she could have used her magic slippers at anytime but had to evolve and learn through her mistakes before she was ready.

I am basically saying that tha Pythagorean Rainbow Modes are an important template for self/ harmonization when used to create musical constellations on a Pythagorean Kanon. Like Dorothy we have known about this scale and it was historically adapted as tha norm in occidental sacred music centuries after Pythagoras died. I believe it is time to revive tha Kanon (like Dorothys' glass slippers) and this time use tha Intention of Love 528 hz and cosmic realignment to 432hz with tha Sonic Yin Yang Law of 3/2 to Return Home or to put it in terms of tha Ancient Solfeggio : Return to tha Spiritual Order.


---