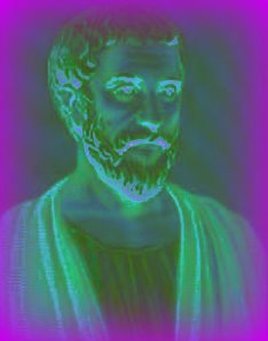 HISTORY OF AN ASCENDED MASTER , HIS CONNECTION WITH THE ESSENES, AND THE SECRECY OF THA KANON

A similar but somewhat different history than we were told in school:

Pythagoras was born to a very wealthy, cultured family. Before he was born his future mom and dad received an oracle from Delphi during their travels revealing that they were to give birth to a son that would become a great influence to the world of humanity for the next 10,000 years. (7400 years are still left!)
Young Pythagoras then studied with some of the greatest sages of his time . After totally absorbing their knowledge he decided to go to the great temples of Egypt. He did not return home to Crete for about 35 years. His family and friends thought him lost or dead: He definitely left alone for Egypt, and possibly other parts, ending his travels after about 20 years by being captured as a wisdom resource to the famous Tyrant King Nebuchadnezzar II in Babylonia for a duration of about 15 years.

He then returned home to find Samos in political upheavel and destruction. He found political asylum in the city of Croton, Italy, where in tha outskirts tha Pythagorean Temple was founded. Those who came in contact with him claimed that he was a Great Spiritual Master and many of his disciples actually claimed that he was God in Human Form and performed miracles such as time travel, inter-dimensional travel, and healing the sick with music. People's lives were reported as transformed after meeting him. He spoke publically often and explained that in order to be a candidate and evolve to the Inner Mysteries one needed firstly to experience divine love and forgiveness with one's mother and father, marital partner, daughters and sons , and finally with all family members as well as close friends. He had even convinced powerful rich merchants and politicians to have fidelity with their wives, become honest and donate money to spiritual works such as tha expansion of tha residence for his disciples of tha great temple at Croton which grew in size to become a small city of 2000 people (800 disciples and their families). It was said they lived not in splendor but in simple yet beautiful surroundings and close to nature. He was a vegetarian and completely respected women, both very odd practices during those times. Those who met him reported that he could speak to animals and could convince them to develop more peaceful habits.
It was reported that he had remembered tha complete details of his last 17 reincarnations. He was seen on various occasions by many people in two places at tha same time which seems to imply tha possibility of time travel and tha possible existence of parallel universes. Yet today and even beginning around the middle ages Pythagoras's reported miracles have been downplayed and considered to be nothing more than religious fanaticism and only tolerated by academics because of his great philosophical and mathematical genius which today is just about all that he has generally been remembered for. However, tha actual historic evidence points to tha fact that the only thing we actually know about him is tha many reports of miracles he performed.
Going back to Pythagoras's time at Croton, Italy, where he founded his temple, he developed a reputation (by his followers) as being a spiritual master and great musician yet he actually had not ever performed his music during his public dissertations.That he performed publically using a Lyre was ( I believe) unintentionally propagated by Plato 180 years later. Pythagoras was heard musically, and surely he taught music, daily and in secret with his disciples of the inner temple; The Kanon or Pythagorean Harp was their sonic, sacred, Living Bible to be utilized in the spontaneous creation of harmonic musical rainbows, thereby revealing harmonic principles of mathematics, geometry, astronomy, art, architecture , poetry, nutrition, ecology, philosophy, sociology, medicine, and etc..

Pythagoras spoke symbolically about the entire universe as having an axis like tha resonating string on tha Monochord. Pythagoras's last words to his disciples before dying were "Study tha Monochord" (De Musica 3.2 ,Winnington-Ingram 97, 3-4). Yet the general public of his time was not even informed of the existence of the musical instrument the Kanon. His music was totally secretive. This we do know as bonafide history. In fact his disciples did keep their secrets for so many generations that Plato 180 years later had no knowledge of the practical function of the Kanon utilizing the 3/2 musical spiral scale. I have found only one actual source connecting Pythagoras to the instrument the Kanon and this being written 700 years after Pythagoras died by a notable Greek/Syrian mathematician Nicomachus tha Pythagorean. Nicomachus' Treatise The Manual of Harmonics was written not as a public document but as a series of personal letters mysteriously written to an anonymous friend of his who, being a noble woman or princess had asked him a favor to divulge his musical secrets to her (because of the forbidden nature during those times concerning any musical theory work being published). However later these discovered letters became published as an important work for just that reason. The book is famous for being the only work of its kind during that period of history. The very short direct quote is as follows: (Nicomachus) says "of the monochords that they were commonly called pandouroi but the Pythagoreans called them canons".The only information I found about the pandouroi is that it dates to Egypt 1500 BC (900 years before Pythagoras's time) and the word canon obviously reflects a modern spelling change after 700 years . We also know of one very famous and interesting drawing of Pythagoras performing this instrument:


---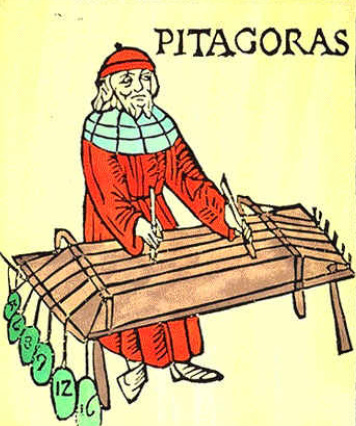 Franchino Gafori, Theorica Musice, Milan from 1492 CE

---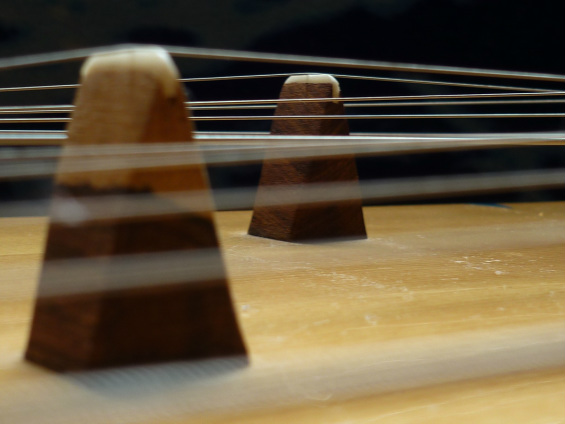 As a result of his secrecy we don't have anything written by any author who was a contemporary of Pythagoras concerning tha Pythagoreans playing a Pythagorean Harp (Kanon), although there are many references to tha Canon as a post Pythagorean measuring tool which is not used in performance but used to compare Greek and Latin music scales . An important modern textbook compiling ancient greek music theory (which in my opinion is a dry academic study) entitled The Euclidian Division of the Cannon exposes hundreds of ancient microtonal tunings recommending all music theory students to compare tunings using a canon as a measuring tool and yet avoids even mentioning tha simplistic beauty of what we now refer to as tha Pythagorean scale as applied 2600 years ago by tha Pythagoreans using tha Kanon. To tha academics tha Pythagorean scale is just another one of hundreds, almost none of which are actually performed today at any rate.
There have been innumerable books written about Pythagoras although nothing has been written about tha details concerning his practical use of tha 3/2 sonic spiral as a mirror of Cosmic Creativity. That he even used that particular scale wasn't revealed until 100 years later by tha famous Pythagorean Philolaus who finally chose to break tha law of silence about what he knew. Although I believe he only knew half of the truth of tha use of tha true Pythagorean Kanon and Scale, and by this time, a century after tha life of Pythagoras, the canon was merely thought of as a measuring tool, and to this day musicologists generally confirm this misconception.

I beleive Pythagoras became a member of the Essenes during his travels and learned the secret sonic lineage of the legendary Solomon from circa 900BC through them. Historically for thousands of years the Essenes, considered to be tha Tribe of Enoch, were tha bringers of knowledge from China, India and Tibet to Egypt. They were a nomadic tribe which lived in an holistic way almost identical to the path that the Pythagoreans would take in their future community in Croton, Italy.
Some 500 years after Pythagoras's lifetime a great Essene John the Baptist baptized Jesus into the sacred Brotherhood. Before the Roman Catholic church came into power the Pythagorean 3/2 scale was the primary scale used by the first Christians. This connects the sonic mysteries of Pythagoreans to that of the Essenes, Enoch, Solomon, and later to John the Baptist, Jesus and Mary Magdalene, revealing the Mysteries of Avilion, all secreting the same musical formulas before also practiced by Solomon; thus containing not only Egyptian elements but tha Chinese sonic cosmology as well. It is not entirely coincidental that Pythagoras's musical scale of 7 notes is simply a 2 note extension from the 5 note scale named by both tha Chinese and by tha Occident alike tha Pythagorean pentatonic scale. Tha Chinese have been using it historically since 3000 years BC. Tha elaborate ancient cosmic calendar of tha Chinese follow this Pythagorean sonic Lambdoma for thousands of 3/2 intervals (25,524 times) ending it when it finally reaches within 1/10,000 of a cent of the exact octave. The relationship of this number to the sacred number of the year of the procession of the equinoxes which we know is 25,920, or in other words the proportion of 25,920/25,524 = 1.0155148095900973. The Pythagorean coma 531441/524288 = 1.013643264770508.

According to tha Mayan Calender in tha year of this writing (2013) we are beginning a new galactic cycle. A propitious year to reactivate tha Pythagorean Kanon. As I mentioned before: the numerology of tha I Ching written 5000 years ago is based on this sonic, resonant, vibratory creation principal of tha trinity of Tao 1, Yin 2, and Yang 3. And it is interesting to note that Pythagoras's spiritual philosophy is as close or possibly even closer to the Essenes, Taoism and Buddhism than it is to Egyptian and Hermetic Mysticism. Remember China, and Tibet although far away, are part of the same land mass as Greece and tha influence of Lao Tzu and Buddha must have reached Pythagoras, possibly through the Essenes as they were considered to be tha bringers of knowledge from tha East to tha West since tha beginning of recorded history untill they were collectively slaughtered by tha Romans. Pythagoras was also a contemporary of the biblical profit Daniel, then also in Babylonia the same years as Pythagoras. They were both said to live as captives in the palace and work as advisors to the tyrant king of biblical fame Nebuchadnezzar II. Daniel an Essene with the title Rab Mag (The Magician of Babylon) surely was tha keeper of dreams and the then Kabalistic Secret Music Tradition of Solomon. History puts those 2 great figures in the greatest world cultural melting pot of the day, in a seething time of wars and cross/cultural ideas - all this happening during Buddha's lifetime and 60 years after the founding of Taoism by Lao Tzu in China.


---